Inaugurated in 2015, the Meliá Campione Hotel in Campione d'Italia is located by Lake Lugano and counts 40 rooms and 2 suites. This new building is already a renown international tourist destination also thanks to its restaurant managed by the Luis Mas brand and to its wellness centre with two rooms for treatments, a SPA and a fully-equipped gym. The hotel rooms, 20 of which face the lake directly, have large and articulated surfaces, separated by glass or wooden walls with luminous and warm colours.





The two suites maintain the same atmosphere with two variants: Femme Fatale Suite is devoted to romantic trips and is enhanced with a relax and bathing room directly connected with the living room and a large balcony facing the lake and the casino nearby; Modern Dandy Suite is especially conceived for businessmen wanting a relaxing lifestyle even when in business trips. MMA Projects studio, a group of architects, designers and engineers leaded by Marco Mangilli, gave the hotel this unique style: they worked in synergy dealing with all the aspects from architectural projecting to interior and product design.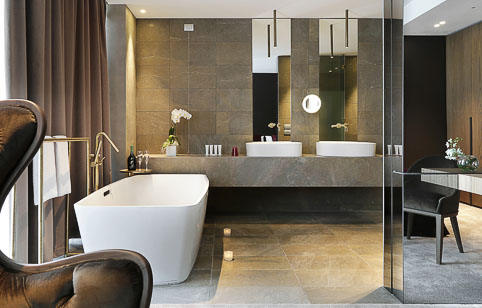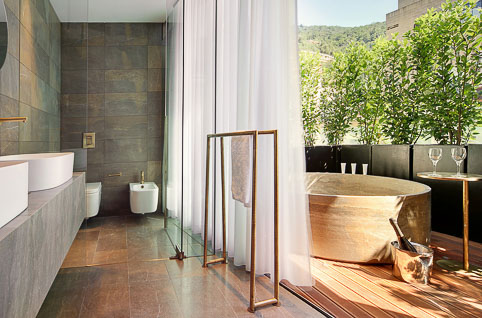 MMA Projects develop each project looking for materials, shapes and colours which re-elaborates traditional and contemporary languages in order to create both functional and poetic consistent structures. In the interaction among architecture, design and technology, the team works on every step of the process selecting reliable and expert workforce and suppliers. Pibamarmi was among Meliá Campione's suppliers, assuring the quality of the large stone surfaces used in common spaces and bathrooms. In particular, it supplied the hotel with Grigio Siviglia and Nero Mandala stones, custom cut and finished in specific ways: patinated, velveted or silk-like. Stone surfaces gave life to floors and coverings representing an added valued to a project that is the perfect expression of the highest standards in contemporary hôtellerie.