PibaMarmi presenta Escavo, la collezione firmata da Manuel Aires Mateus


Balde basins from Manuel Aires Mateus's Escavo collection for Pibamarmi.

Bacìa, Balde, and Banheira are the Portuguese name of the simplest water holders, given to the elements of the Escavo collection, signed by Manuel Aires Mateus for Pibamarmi. Cavity is a recurring theme of study in the Portuguese architect's designing activity, faced this time in the product design scale for the bathroom furnishing; the collection is simple and conceptually immediate, offering archetypical shapes as the bucket, the tub, and the bowl. These elementary, somehow rudimentary, objects get on their edges refined and subtle profiles typical, in their curves, of the vases and the chinaware.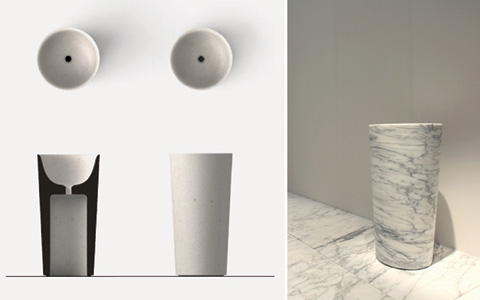 This design project is, indeed, focused on the contrast between mass essentiality and void complexity, on the individuation of flared negative volumes, excavated according to a continuous and sinuous profile, dematerializing truncated cones and parallelepipeds.
The cavities of these objects, sectioned in this particular way, play with the light in a series of shades that get more intense on the plain, curved edge; the collection develops the richness of the excavated design with its diversified morphologies and dimensions, its lighting conditions, the dynamics through which it's perceived and experienced by the users.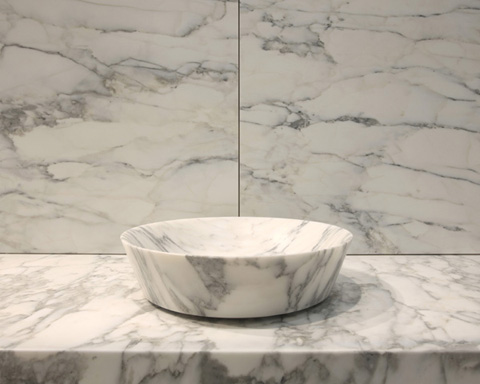 With these technical elements for the bathroom furnishing, Manuel Aires Mateus organically integrates product design to interior design, reaching a concept of total design of the environment aimed to hygiene and body care.
For the Lisboa architect, the overall value of the projecting action is once again centred on the spatial nucleation, on the individuation of a space defined by stone surfaces in which the objects create a dialogue with the void and the walls delimitating it.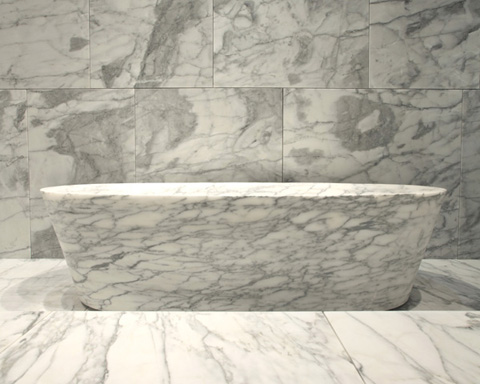 Basins, tubs and shower plates aren't characters external to the context, but are co-protagonists placed against the walls, or partially included in them, or even set into the floors; and they are partially visible and partially hidden by the stone involucres.
Stone objects and spaces by Aires Mateus are conceived as new formal and functional archetypes, able to authentically and directly interact with the user being fully open to relation and continuity.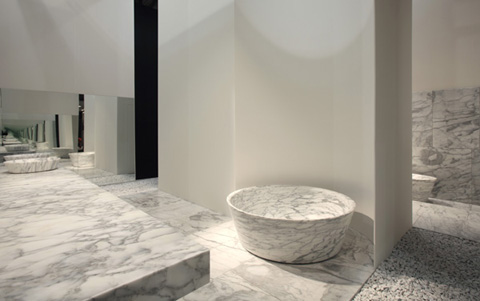 In this idea of coordinated bathroom, made of stone collections and surfaces, some recurring traces can be found in the dimensional modules that characterize the basins, the shower plates, the covering slates extended vertically and horizontally. This modularity is aimed to grant more flexibility in order to cover in continuity all the different surfaces. All this was perfectly demonstrated in the integrated setting of the Escavo collection that Manuel Aries Mateus designed for Pibamarmi at the latest edition of Salone Internazionale del Mobile in Milan.

by Davide Turrini