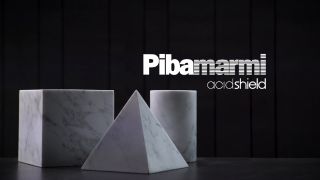 Acid Shield is a revolutionary protection for marbles and stones conceived by Pibamarmi against acids, colorants and grease
It coats any material with an invisible satin-like shield without altering its natural chromatic aspects and protecting it from stains, etches and losses of brilliance and color.
This treatment has been developed internally by Pibamarmi and is applied by the firm on marble slabs and surfaces, but also on 3D-shaped or caved objects. Acid Shield is certified by the Marmo di Verona Laboratory in compliance with UNI EN 12720 regulation (Assessment Of Surface Resistance To Cold Liquids. Cleaning Products and Staining Agents) and allows going through any problems in maintaining and cleaning natural stone materials.