Epicentro Marmo (Marble Epicenter)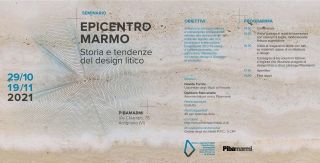 In collaboration with Ordine degli Architetti, Pianificatori, Paesaggisti e Conservatori, Provincia di Vicenza, Pibamarmi presents a workshop titled "Epicentro Marmo. Storia e tendenze del design litico" ("Marble Epicenter. History and Trends of Stone Design").
The meeting is aimed at architects and designers who want to develop knowledge and professional skills in the selection of stone materials, their manufacturing and their projection culture from the past to the contemporary age, with particular focus on interior and product design.
The workshop will consist in one introductory conference and a guided tour to Pibamarmi warehouse and manufacturing sector.
It will be held next 29th October in Spazio Pibamarmi, via Chiampo 78, Arzignano (Vicenza), and again on 19th November, 2021.

Admission
Free

Available places
45 for each date

Entry form
http://corsi.ordinearchitetti.vi.it/

Educational Credits
Ordine degli Architetti P.P.C.:
3 CFP

For more information
a.bravo@pibamarmi.it