Santa Clara 1728
Timeless interiors by Aires Mateus Studio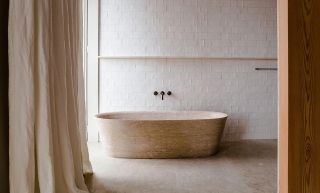 A refined modulation of spaces combined with a clever use of natural materials such as wood and stone distinguish the Santa Clara 1728 project by Studio Aires Mateus; a boutique hotel carved out of an old Lisbon mansion where guests are welcomed in six suites and common spaces such as the large entrance lobby, the dining room occupied by a single large solid wood table, and the secluded interior courtyard flooded with light.
photo by Francesco Martello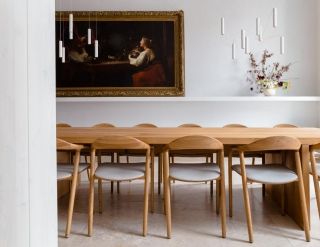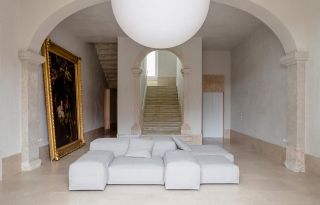 With the primary goal of creating an architecture that reflected the city's living experience, Aires Mateus began with historical research into the stratifications of the building followed by a minimalist yet eloquent design in the articulation of significant proportions, surfaces and furnishings to create a whole that takes on a strong timeless character.
In a crisp interior design conducted for expressive accents plastered walls in neutral tones, or in polished concrete, match in full assonance with lithic or wooden floors of generous formats; white light fixtures of contemporary design dialogue with large Caravaggesque canvases in sumptuous gilded frames.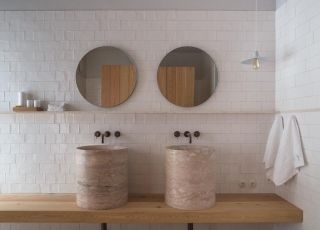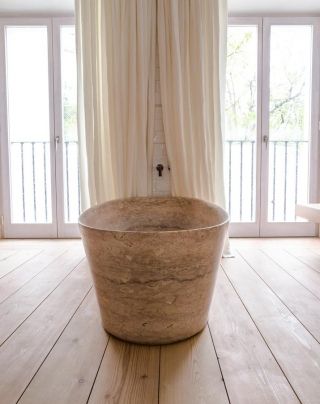 In the bathrooms, the focus is on washbasins, bathtubs and shower trays from the Escavo collection designed by Manuel Aires Mateus for Pibamarmi, in a customized variant with modified profiles and dimensions that has been a hinge for the designer and the Chiampo-based company toward imminent evolutions of their mutual collaboration. The material chosen for the elements is Lioz marble from the Portuguese construction tradition, selected in a cream color variant with expressive gray veins.