Saturnia Column basin, designed by Philippe Nigro for Pibamarmi.
Fascinated by the potentialities of the assemblies of pure shapes, Philippe Nigro keeps developing unconventional objects full of fantasy in Saturnia as well, a new collection of bathroom furnishing in natural stone produced by Pibamarmi. The French designer, who permanently lives and works in Milan, has been projecting extremely versatile design pieces as for example sectional sofas, extension tables, modular bookshelves; with Saturnia he revisits the most antique and seducing aspect of the stone with the invisible touch of the most sophisticated modelling technology, creating friendly every-day objects to set the contemporary bathroom space with.
This basic shapes – divided, reunited, multiplied – of the basins called Sink, Basin, Box and Column, are inspired by the theory of mathematical sets and are manufactured with patinated and silk-like stone materials, in order to convey a positive effect to the vision but, before all, to the touch. The outlines of the pool Bath and of the shower plate Shower have smoothed corners and refuse symmetry or orthogonality, disposing its components according to oblique directions and reaching the user in a confident and playful attitude.


The user usually chooses an object eminently by a visual approach, more or less instantaneous and superficial, but it's through the actual use of it that a truer and stronger relationship between the projector's and the user's mentalities is established; this relationship develops in the user a strong and profound sensation or a mix of feelings that are further empowered by the chance of creative interaction in which the authentic life of the object consists.
Philippe Nigro pays particular attention to this relational dynamics between the human being and the sphere of objects he uses, and each of his projects is conceived and structured to be flexible to the constantly changing needs of the contemporary living, giving to the user large freedom to affirm his/her own creativity. Even if being manufactured with a solid and resistant material as the stone, Saturnia is a collection of elements with dimensions easy to handle that allow changeable and varied installations and compositions, with one, two or multiple components, always customizable.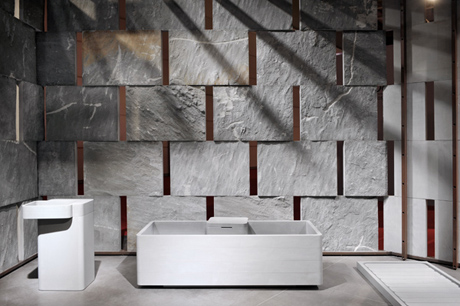 In this way the new galaxy of bathroom elements produced by Pibamarmi materializes the concepts of intersection, coincidence and disjunction – antique and intuitive mathematical abstractions with which mankind have always classified the world – and expresses a completely new conception of stone design making the stone a light and lively material instrument to create sequences of full or void spaces converting, partially superimposing or completely merging; this becomes an accessible and fascinating combinatory process, thought as a way to continuously generate previously unseen configurations.


Davide Turrini