A temple, the Gods, the Heroes
A stone temple for stone Gods. The idea of a sacred enclosure defining a concatenation of closed and hierarchical spaces inspires the new exhibit design project signed by Manuel Aires Mateus for Pibamarmi at 2010 Marmomacc.
The smoothed and monochromatic stone material constituting the walls is stratified in upright dispositives that reinterpret in a stylized way the works of Greek-Hellenistic architectures; the partition walls frame a central cella and indicate lateral spaces thought to protect and at the same time reveal refined and precious monoliths that are in vivid relationship with the liquid element. These design pieces are the cultic objects of the contemporary ritual body care and they are shaped from the natural stone in order to be contemplated and touched, to instil with their presence evocative sensations of harmony and wellbeing.
In front of these news Gods, in a softly illuminated and silent atmosphere, the visitors that can understand the ritual of the stone become Heroes allowed to enter this sacred place, invited to live a privileged relationship with the deity and to absorb part of its virtue.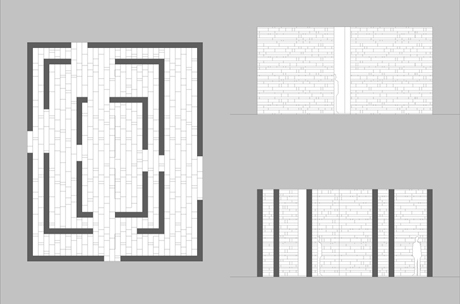 Manuel Aires Mateus' biography
Manuel Aires Mateus was born in Lisbon in 1963 and graduated at the Faculty of Architecture at Universidade Tecnica in 1986. He started collaborating with architect Gonçalo Byrne in 1983 – fundamental experience for his professional education – till the foundation in 1988 of Aires Mateus & Associados studio, together with his brother Francisco.
The education in the cultural Portuguese environment, dominated by internationally relevant personalities as Tavora, Siza, Souto de Moura and Byrne, haven't limited or prevented the elaboration of a personal "style" characterized, since his beginnings, by an evident and recognizable mark.
Mateus brothers' architecture is based on the research on space and materials that, although recognizing the mass as the principal element, aims to eliminate gravity in order to stress the importance of lightness through a substantial de-materialization.
Among the most significant works realized by Aires Mateus & Associados studio we can find numerous private residences and public works, as Residencia de estudiantes de la Universidade de Coimbra (1999), the Cultural Centre in Sines (2000), the New University Chancellor's Office in Lisbon (2001), Almedina bookshops (2000-2002), the Lighthouse Museum in Cascais (2003), the Museo de Arquitectura (2006) and the Edifícios de Escritórios in Lisbon (2008).
Since 1997 Manuel Aires Mateus has been ordinary professor at Lisbon Lusiada University; from 2002 to 2005 he had been Visiting Professor at the Graduate School of Design at Harvard University. Since 2001 he has been teaching at Mendrisio Architecture Academy.


by Davide Turrini