Exploring the stone temple
Davide Turrini describes Manuel Aires Mateus' work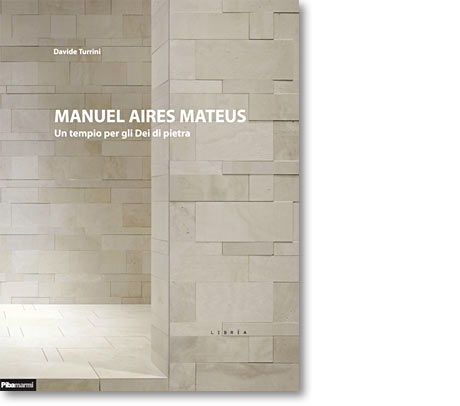 At a first look these poetically inspired words could seem written down by an explorer from past times, a Nordic traveller with vast and cosmopolitan culture, arrived to the 19th century straight from the mythical times of the Magna Graecia. It could seem that the object of this story is located in the silent countryside surrounding Agrigento, immersed in a zenith light cone, waiting for the heroic post-modern observer discover its intact splendour. It just could, because the author of this book, researcher at the Architecture Faculty of Ferrara, is mixing in these highly dense and complete pages a deep humanistic faith and a strong knowledge of the materials technology.
Davide Turrini, at his second publication with the refined publishing house Libria, turns the contemporary illustration of the Pibamarmi exhibit pavilion designed by Manuel Aires Mateus for the 45th edition of Marmomacc in a wide-range narrative occasion in which the stone technical and projecting qualities are linked to a mythic past, a story within History. This is a precious book which is able to overpass the simple verbal barrier – too often words, in the architectural domain, can't give back the intensity of the space dimension – in order to develop theoretical considerations about the work of the two important Portuguese architects. The volume shows a direct and deep knowledge of Manuel Aires Mateus, in particular in the intriguing interview with the architect in occasion of the Verona exhibition.





The text, contained and balanced in its contents and in the choice of the pictures, radically exalts the material beauty, its timelessness, especially thanks to a careful selection of axonometric plans. Davide Turrini follows a path of formal balance, perfectly matching the quiet and intense elegance of the project, only briefly introducing the rich projecting history of the Mateus brothers. In a few, always well documented passages, his ability is in giving the idea of the complexity of many years of professional work carried out under the same sky of Portuguese masters as Byrne, Tavora, Siza and Souto de Moura. Turrini employs precise sentences in his introduction, without showing off his knowledge in useless inventory, and succeeding in catching the reader's attention by quick hints about the theme of the void space, real trademark of the Mateus' style.
Thanks to a progressive focusing on the subject, the narration contextualizes the specific project – the Pibamarmi pavilion, which is treated like a splendid metaphor able to aggregate the different stories of the buildings that are mentioned between the lines. A pertinent and well documented metaphor in which stage, actors and audience – Temple, Gods and heroes – create a perfect Aristotelian unity. The pavilion becomes the stage for the scenic action, expression of the conceptual value of the material – the stone, silent protagonist of the story – where rituals of ancient memory are developed as if the Sacred could be evoked beyond the classic myth that the authors demonstrates to perfectly know and understand.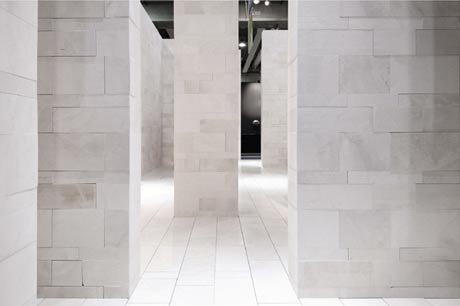 And Turrini appropriately tells us about "essential sculpture-like shapes" set as gems into the stone wrapping of the pavilion, finalizing with a balanced rigour the intense and vibrating space designed by Mateus. The design elements, conceived as well by the architect, are mentioned in the text with scientific precision in collecting data but at the same time fascinating the readers and creating another new project: the book itself. So the narration exalts the quality of the pavilion in each of its part producing a linguistic hologram that leads the visitors beyond their simple sight, in a new dimension among biography, history and criticism.
Before the part containing the English translation of the chapters – demonstration of this text being a medium destined to get very far, professor Alfonso Acocella's essay glosses the essential concept of the story through the void/full binomial, a mythic couple created by the meeting of light and shadow that Davide Turrini has just masterly described. This reading ended, one immediately feels the need to buy the other book by the same author, the one devoted to the work of Alberto Campo Baeza, once again published by Libria. Another narration developed in ancient times, another high-quality essay. But this, as they say, is another story…


by Elisa Poli