Cavità di pietra e continuità spaziale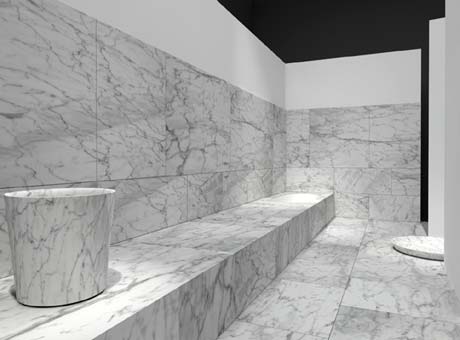 "An object, unless it's exceptional, can't be an absolute protagonist; it should express a great measure, that is to say show a willingness to establish connections. (…) Fittings that have made history own a noticeable measure and a kind of triviality, this being an ambiguous word that I use not meaning "lacking of interest or quality", but "disposable to continuity". (…) Design implies strong contacts with manufacturing and industrial production. In order to take all their potentialities it is necessary to understand which these potentialities are. During the productive process (…) it is necessary to create a strict link between the project and who is carrying it out."

These concepts expressed by Alvaro Siza in this general dissertation about design are very appropriate to describe Manuel Aires Mateus's latest integrated project for the bathroom environment, created for Pibamarmi.
Manuel, protagonist with his brother Francisco of one of the most significant professional experiences in contemporary Portuguese architecture, studied a new collection of technical elements in natural stone that seems to embody the idea of "measure" identified by Siza as "willingness to establish connections"; once more he did this confirming the long-running collaboration with the stone brand in Chiampo, in direct contact with the productive process.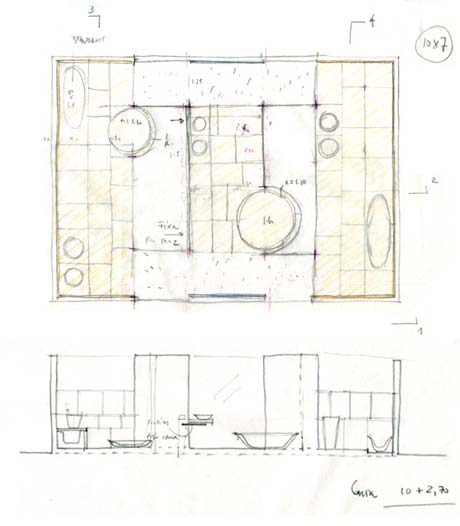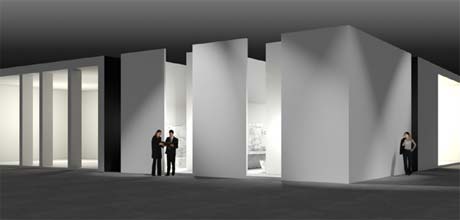 The cavity – or rather the negative side of the mass – is a recurring theme in Aires Mateus brothers' architectures and Manuel interpreted it for Pibamarmi at a design scale, in a simple and conceptually direct collection that offers archetypal forms of water containers as buckets, tubs, and basins. They are elementary or even rudimentary objects, but they have on their edge a subtle and curved refinement, typical of vases or porcelain dishes.
Aires Mateus's design project is concentrated on the contrast between essentiality of the mass and complexity of the void, on the indication of negative volumes defined by a sinuous continuous profile, dematerializing truncated cones or parallelepipeds.


Starting from this collection of technical elements for the bathroom furnishing, in Manuel Aires Mateus's conception product design is organically integrated to interior design, reaching a total design concept of this environment for the body care: the complex value of the projecting effort is, for the Portuguese architect, once again in the organization of space, in the indication of a defined place limited by stone surfaces where objects are located in a dialogic way with the void and with the walls delimiting it. Wash basins, bathtubs and shower trays aren't considered out of this context, but are co-protagonists leant to the walls or partially englobed by them, or sunken in the floors; they are in part revealed, and in part hidden by the stone wrapping the rooms.
Carefully analysing this project, it is clear the complete assimilation and reworking by Manuel of Adolf Loos's interior architecture, filtered with the works by Alvarzo Siza. In particular the objects and the spaces for the bathroom show evident associations with Siza's rooms and design elements in marble, as the interiors of Borges Bank in Irmao (1969), Avelino Duarte's house in Over (1980-84), or the liturgic fittings (altar, chair, font) for Santa Maria church in Marco Canavezes (1990-96), veritable relational objects with straight elementary volumes cut ouf of natural stone.
In Siza's interiors, and the same is for Goncalo Byrne's (the Mateus brothers took the first steps as designers in his studio), the lavish marble coverings of the house typical of Loos, articulated in columns, boiseries, frames, steps, floors and fixed fittings, are re-proposed to create totalizing stone walls, strong enough to transmit the idea of a uninterrupted space continuity.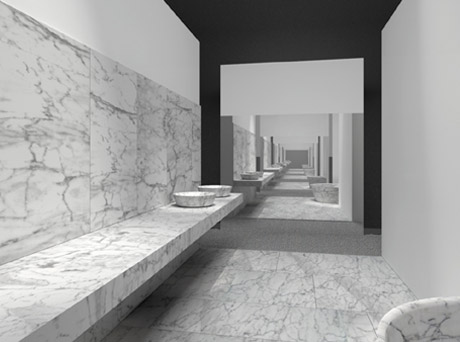 In this idea of interconnected bathroom, made of stone objects and surfaces, recurring dimensional modules characterize basins, shower trays, covering tiles horizontally and vertically distributed. These modules are aimed to assure maximum flexibility in order to cover with continuity different kind of surfaces.
As usual for forms dug out of stone, the edges and the walls of the bathroom fittings are full and straight, but never too thick, the monolithic volumes are well proportioned, the finishing of the stone surfaces is smooth, silken and soft to touch. Manuel Aires Mateus's objects and rooms – that will be presented at the next edition of Salone Internazionale del Bagno – are conceived to create new formal and functional archetypes, able to authentically and directly interact with the users because of their "willingness to relations and continuity".


by Davide Turrini