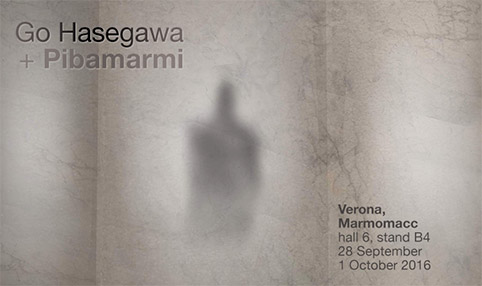 Pibamarmi will attend next edition of Marmomacc in Verona with a new exhibition space designed by Japanese architect Go Hasegawa. The installation will underline the translucent aspect of marble thanks to a central-plan compact building, caved in its interiors according to various profiles, each one conceived to show the different levels of thickness and transparency of the stone.


Go Hasegawa
After completing a master course at Tokyo Institute of Technology, Go Hasegawa established his architecture studio in 2005 mainly projecting private houses, characterized by the precise study of natural lighting and of the interior-exterior relations. Among his works particularly notable are the Nippon Design Center in Ginza and the highly symbolic conception of the belfry at Ishinomaki, a city in West Japan severely damaged by the 2011 tsunami.
Go Hasegawa has given lectures and participated in conferences in Los Angeles, Milan, Mendrisio, Oslo, and Tokyo and his works received various acknowledgments throughout the world.


Verona, Marmomacc
hall 6, stand B4
28 September - 1 October 2016