The marble sculpture-like core of a penthouse
by Fran Silvestre Arquitectos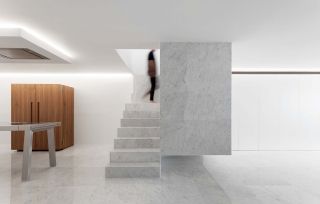 The staircase in Carrara marble from the volume at the center of the house
Sculpture-like volumes in stone give a penthouse facing the Mediterranean landscape of Alicante, near Altea bay, a new identity. This house, designed by Fran Silvestre Arquitectos and by interior designer Alfaro Hofmann, is articulated on two levels: downstairs a monolithic core made of Carrara marble is located at the centre of a free space incorporating the stairs; upstairs another marble core articulates all the functions and contains the technical elements of the bedrooms and the body care compartments.
Upstairs: the marble staircase with the vast living room in the background
This projects is reminiscent of the "ideal home" by Enrico Peressutti (Domus, n. 176, 1942), a cubic crystal incorporating a big monolith already present in the natural landscape, that was rectified and modelled to obtain a staircase, a fireplace and the brackets bearing the roofing beams ("landscape rock, sculpted rock, in other words turned into architecture").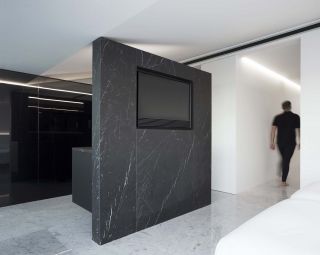 A monolith in black marble divides the master bedroom and the master bathroom
This primeval stone element becomes the symbolic, functional and structural core of the house: according to Fran Silvestre's project, the sculpted stone represents the most intimate essence of the living space, a significant mean to dialogue with the few other elements as the wooden cupboard in the kitchen; the limitless marble floor; the vast transparent surfaces focusing on the marine landscape.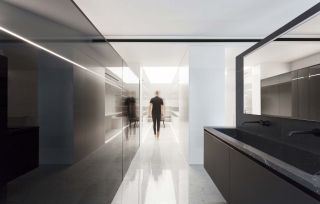 Upstairs: bathrooms and dressing room
Upstairs as well another sculpture-like marble presence organizes the space. It's a big volume that contains a video screen on one side, and a pair of lithic washbasins on the other: it divides the master bedroom and the bathroom with annexed dressing room. The black marble is another expressive core and the free space characterized by candid walls and furnishing rotates around it. In addition, the pale presence of vast open windows focuses the attention on the bay on the horizon.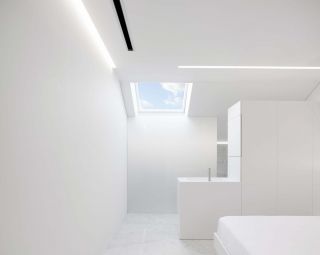 Upstairs: guest room with annexed bathroom
Stone surfaces characterize other minor spaces, functions and accessories, that stand out however as extremely refined solutions: for instance, the stone wall with the showers in the master bathroom or the guest bathroom as well. All stone materials are supplied by Pibamarmi and laid by its official dealer Terraceramica