Stones of Italian identity.
A journey through architecture and design
Italy has always shown a wonderful and rich variety of marbles and stones that inspired artisans, sculptors and architects throughout history. These materials have been stimulating different original projecting and productive cultures, shaping both local identities and global awareness: a doubtless example of this is the never-ending international success of the travertine or of the Carrara marble, seen as symbols of Italy itself.
Giovanni Michelucci, Palazzina Real, Stazione di Santa Maria Novella, Florence 1934-1935
A selection of works by architects and designers, with their distinctive materials, becomes a reflection of the Italian stone variety starting from the autarchic style during the 1930s, when stones and marbles were placed side by side with more contemporary materials because of their abundant supply but also because of their nostalgic values linked to the fascist propaganda.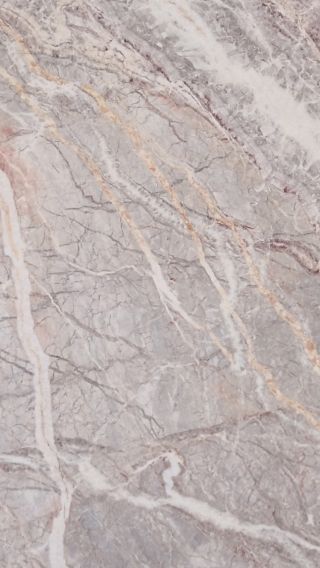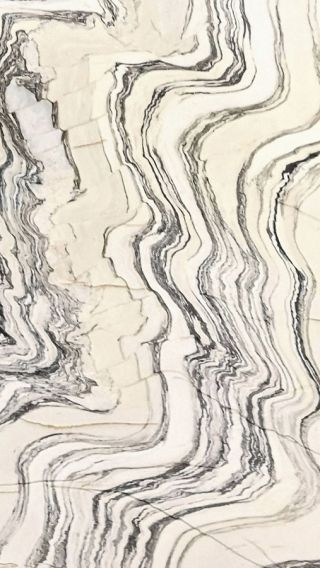 This ideal journey can start from the Palazzina Reale in the Santa Maria Novella train station in Florence: designed by Giovanni Michelucci as temporary residence for the royal family when visiting the Tuscan city, the building is conceived with the extensive use of Italian marble varieties characterized by strong colors and textures. They are laid on vast floors and walls in some extremely refined solutions.
The outdoor covering is made of slabs in Fior di Pesco Carnico marble, a material from Friuli characterized by a grey-rose surface with light-colored veins and rose-violet spots. Indoor we can find two very expressive materials: the red-colored Rosso Levanto marble from Liguria in the throne hall, and the Fantastico Arni marble from Apulia, with its green waves, covering walls and handrails on the stairs up to the first floor.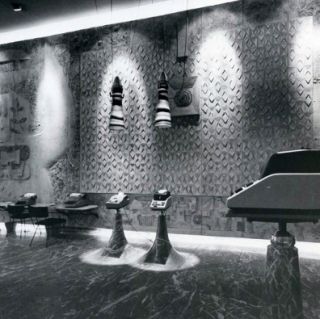 Gruppo BBPR, Olivetti Fifth Avenue flagship store, New York, 1954
Verde Alpi marble slab from Valle d'Aosta
After the second world war
After the second world war stone materials are like a karst river that resurfaces among the antipodal new industrial instances, exemplified by patents in the 1950s for artificial or reconstituted marbles and for standardized modules. There are also unique, isolated works as the flooring in green marble from Valle d'Aosta used by BBPR group to design the New York Olivetti boutique.
This flagship store of the Italian company includes national stone materials not only on the floor – with its third dimension extended thanks to stalagmite-like supports for the typewriters – but also in some furnishing elements such as shelves and a big table in Candoglia marble, the same used for the Duomo in Milan.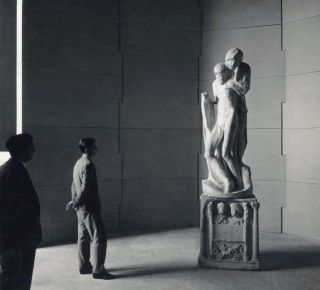 BBPR, Setting for Pietà Rondanini, Castello Sforzesco museum, Milan, 1956
BBPR designed another project where they employed Italian stones in a very peculiar way: it's the setting made of Pietra Serena they conceived to encapsulate the Pietà Rondanini at the Castello Sforzesco museum in Milan. They created a big niche around Michelangelo's sculpture giving the Tuscan stone a new modernity in a stimulating and balanced dialogue with the work of art, full of material similarities and formal contrasts.
This ideal journey through the most identifying expressions of Italian stone materials can arrive till the end of the 1960s with the first product design experiments made by the Officina workshop in Pietrasanta, in the occasion of the Terza Mostra Nazionale del Marmo (Third National Marble Exposition) in Carrara. The group created objects and furnishing elements made of stone: Enzo Mari, for instance, designed The Big Stone Game (1968), a playhouse for children with a slate flooring and eight vertical panels in Roman travertine, perfect to hide-and-seek but also to peep through very little holes in the surface.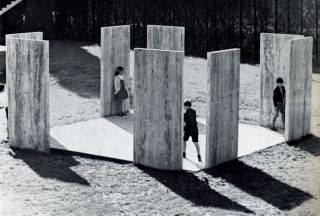 Enzo Mari, The big stone game, Carrara, 1968, view and details
Roman Travertine slab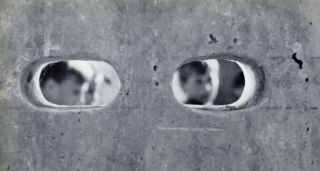 These experimentations, taking place between Pietrasanta and Carrara, prelude the projecting paths of distinguished designers such as Sergio Asti, Achille Castiglioni, Angelo Mangiarotti, Tobia Scarpa, Ettore Sottsass, and Lella and Massimo Vignelli, all of them keen on using stones. These paths, some more fruitful than others but still very relevant, were articulated in single pieces by important Italian furnishing firms or in entire collections by marble design brands that were crucial instruments in shaping, from the 1960s to the present day, the role of Italian stones in the global scenario.