Stone surfaces for a collector's home
A project by Vittorio Longheu
Dining room with Grigio dei Navigli stone floor (photo by Federica Bottoli)
Along the Adige river in Verona, facing Castelvecchio, a large family flat owned by an art collector explores the theme of the bourgeois home in a delicate balance between the subtle richness of the interiors and the sobriety of roughcast walls. Signed by Vittorio Longheu, the project wisely defines spatial characteristics and the detailedness of interior architectures.
Grigio dei Navigli floor, details (photo by Federica Bottoli)
A vast living area faces the river with a succession of window doors. In the intrados of some of them, vertical mirrors are inclined to make the sight of the medieval castle and the Veronese urban landscape more visible.
Living room perspective with the windows facing the city and the material and chromatic effects on the vertical surfaces (photo by Federica Bottoli)
The game of lights and shadows, and between rough and smooth surfaces reminds of the Italian interiors tradition of the 20th century. This bourgeois style is referenced as well in the choice of stones, that rather than being polished and homogenous are characterized by refined patterns and nuances with glossy finishings, giving the idea of soft and palpable surfaces exalting the peculiar colors and textures of the materials.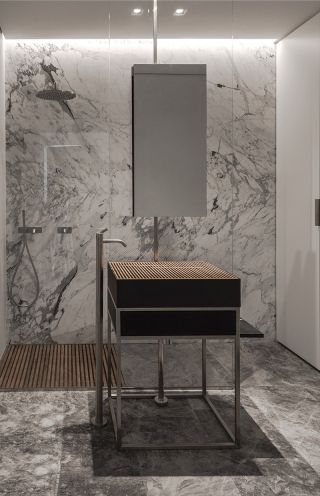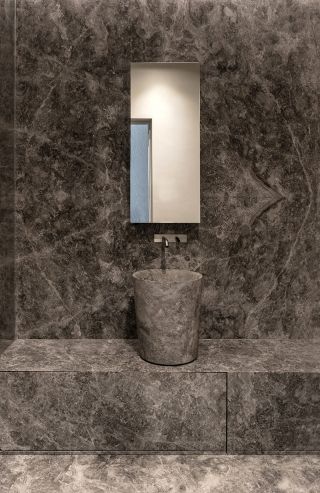 Bathrooms with stone coverings in Breccia Capraia and Grigio dei Navigli (photo by Federica Bottoli)
The essentiality of the plan is enhanced by long perspectives articulated on three axis: the main one is that of the living room, with the other perpendicular two that are the parents' and children's bedrooms. Large pivoting floor-to-ceiling doors underline these perspectives that also connects the view on the river on one side to the backdoor gardens on the other.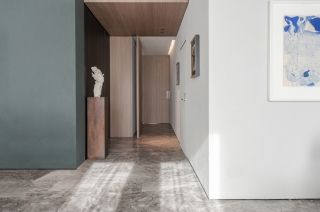 The axis between the living room and the bedrooms (photo by Federica Bottoli)
The master bathroom with coverings and wash basin in Nero Port Laurent marble (photo by Federica Bottoli)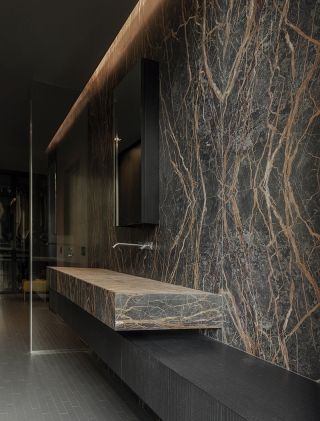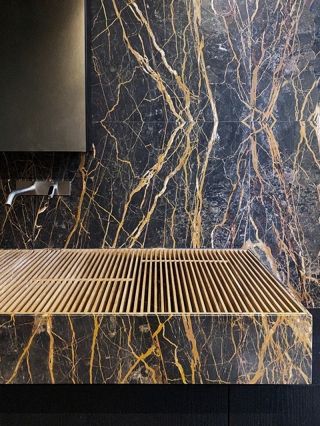 Manufacturing and shipping of the stone materials were supplied by Pibamarmi: Grigio dei Navigli for the living room; book-match laid Nero Port Laurent on the master bathroom; Breccia Capraia and again Grigio dei Navigli for the minor bathrooms.
Wash basins and shower trays are made of the same materials of the coverings and come from the Pibamarmi Piano di Posa collection, designed by Longheu himself.