Pi Bar Marmi
A Loosian-inspired space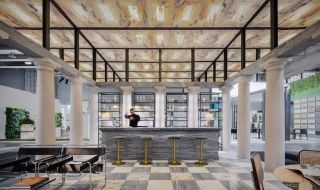 The Pi Bar Marmi pavilion, designed by Mark Wilson Jones for Pibamarmi during the last edition of the Marmomac fair, was inspired by Adolf Loos' Viennese Kartner Bar, an emblematic masterpiece of a complex creative personality who widely explored the essence of stone in his architecture.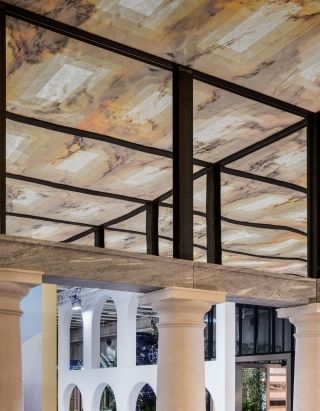 Wilson Jones is an architect and an architectural historian who has been working since the 1980s following an articulated process made up of documentary studies, travels aimed at observing and surveying the vestiges of the past (in Athens, Rome, Verona), and new design that speaks a classical language, not only re-proposing ancient typological palimpsests but also updating the vocabulary and syntax of the architectural order.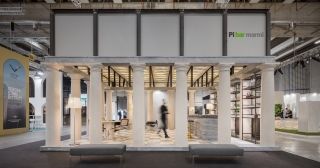 The pavilion he designed was characterised by a basemental peristyle of sixteen Tuscan columns and an attic floor with a coffered ceiling where translucent marbles and mirrors created a visual multiplication effect. A large marble bar counter and a back wall with additional mirrors and brass shelves then constituted the cornerstones of a place for the reception and display of Pibamarmi's products. The marbles used were New Granada for the columns and light Estremoz combined with grey Sandy Blue in the floor.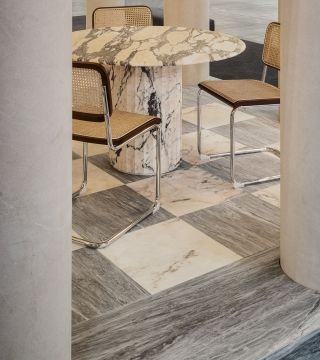 The light-coloured Estremoz marble, cut into 20 to 5 millimetre thin sections, also returned in the translucent ceiling. This created a defined room, intimate and protected, yet permeable to interaction with the flow of visitors and the multiple messages of the large exhibition space. The Loosian inspiration then triggered unprecedented reflections on the historical and current role of stone in architecture, on the relationship between imitation and free creativity, between classicism and modernity with ironic and in some ways paradoxical connotations.

- by Davide Turrini