House Marcegaglia Museum
The regenerated factory according to Vittorio Longheu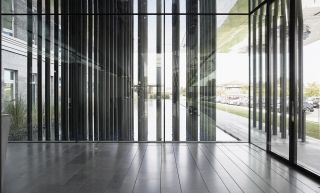 After more than sixty years of activity, Marcegaglia is one of the world's largest steel processing operators and its headquarters in Gazoldo degli Ippoliti, near Mantua, is now enriched with new spaces designed by Vittorio Longheu. The intervention is an opportunity to rethink a part of the large factory, operating not only through a simple addition, but involving the entire industrial complex starting with an entrance pavilion and the adjacent outdoor areas with the creation of a public park.
The entrance pavilion with the stone floor and desk
(photo by Federica Bottoli)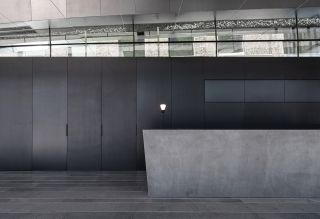 The design is based on the idea of an open factory, dedicated to generating work, relationships, community through spaces and paths integrated with the existing and intended primarily for the territory and the "people" who work in it; those same people who in sixty years of company history have succeeded each other for generations, building over time a true sense of belonging.
For Longheu, this is a regeneration of the production sites that starts from an accessible architectural antecedent: a pavilion with transparent walls and a pitched roof supported by a forest of slender cylindrical pillars that, united in dense sequences, represent the entire team of people working in the company.

Longitudinal section and view of the entrance hall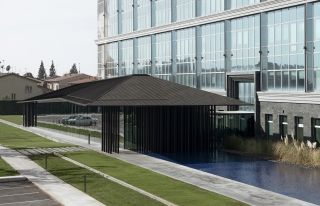 (photo by Federica Bottoli)

This is how the "Marcegaglia House" takes shape, from which one can access the factory or further rooms on the ground floor where the exhibition routes of a company museum, a library, a historical archive and the academy, a training place for all company employees, are located. The materials of the newly designed spaces are steel for the pillars and roof; glass and mirrors for the walls and ceilings; Nero di Nonza, a Mediterranean lava stone with grey tones, for all the floor levels and for the large desk at the entrance.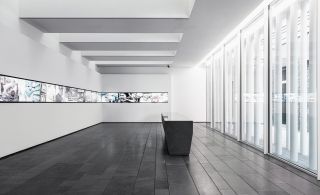 A room in the museum itinerary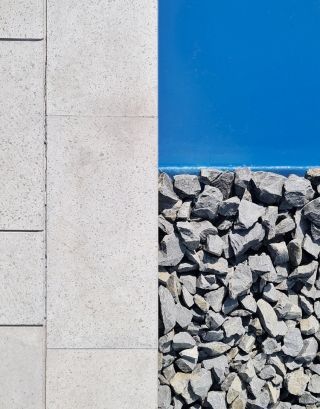 Details of the external stone paving (photo by Federica Bottoli)

Stone, a natural element in dialogue with industrial materials in the interior, also extends into the outdoor paving, with a large pool of water and laying of turf. The stone slabs with varying widths are laid in a running pattern, indoors with ungrouted joints. The surface finish is matt polished or saw-cut. Stone supplies and processing are by Pibamarmi, also in the bathrooms dedicated to the new spaces where the Grizzana washbasin, designed by Longheu himself, comes back in a customised version, increased in dimensions and carved in Fior di Bosco marble.

Bathrooms with Fior di Bosco marble washbasins
(photo Federica Bottoli)