Fluid shapes for the Tailor Collection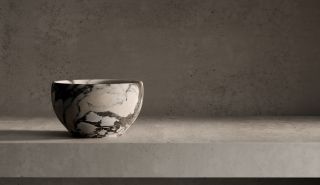 Cloche washbasin from the Tailor Collection Pibamarmi
In the rich proposal of the Tailor Collection, inspired by the world of tailoring and recently designed by the Pibamarmi Style Office, a family of elements is characterized by sinuous shapes and warm colours conceived for intimate and cosy interiors. They are washbasins and tables with solid and soft volumes, moulded in materials with delicate neutral tones or with more intense and deep red and earthy shades.
Detail of the Cloche basin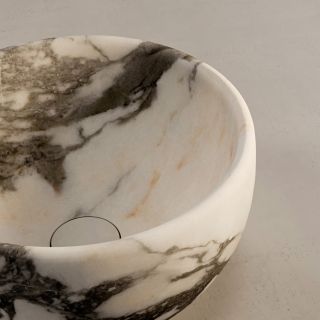 This is the case with Diva, a sculptural floor-standing washbasin once again designed to conceal all supply and drainage systems from view. All the washbasins in the collection are in fact characterised by the theme of lithic monomateriality with concealed drains of various types that are transformed from technical elements into refined formal details that diversify the objects.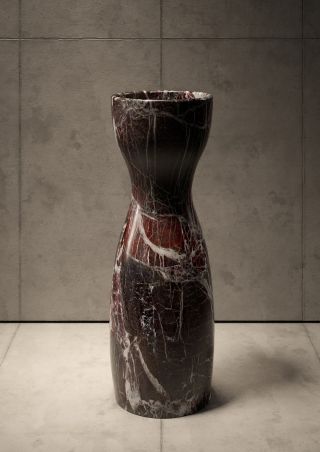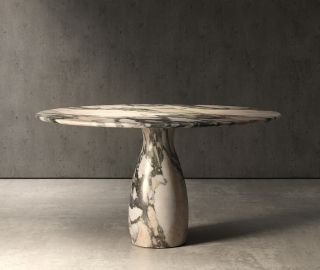 Diva washbasin and Curvy table from the Tailor Collection Pibamarmi
Curvy then offers a new interpretation of the macro-object table with a base in the silhouette of a bottle, while the Baguette washbasin is carved out of a massive parallelepiped volume lightened by the fluid excavation of the basin to contain water, combining rational geometries and organic shapes.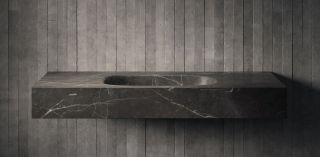 Baguette washbasin from the Tailor Collection Pibamarmi
The accuracy of CNC machining and hand finishing is reflected in the refined surface design and in the edge and base profiles of each element. The materials and colours selected to give body to the objects also reinforce the new collection's distinctiveness in the panorama of contemporary stone design proposals: they range from Pietra Grey with its earthy tones, to the strongly veined ivory shades of Calacatta Estremoz, to the purple hues of Rosso Levanto.
All models in the Tailor Collection feature next-generation surfaces thanks to the Acid Shield stain and corrosion-resistant treatment that provides advanced technical performance to the stone while maintaining the expressive qualities of natural grain and colour.