Born in Ferrara in 1951, De Lucchi graduated in architecture at Florence University. In the years of radical and experimental architecture he was one of the protagonists of movements such as Cavart, Alchymia and Memphis.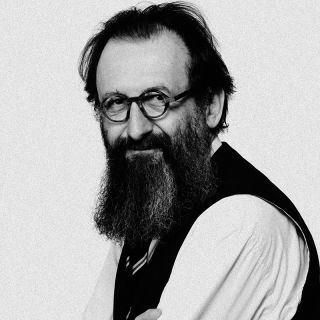 He designed lamps and furniture for the best-known Italian and European firms. He was responsible of Design Olivetti from 1992 to 2002 and developed experimental projects for Compaq, Philips, Siemens and Vitra. For Deutsche Bank, Deutsche Bundesbahn, Enel, Poste Italiane, Telecom Italia, Banca Intesa and for several others Italian and international banks he worked on brand evolution introducing technical and aesthetical innovations.
He was the curator of different art and design exhibitions and designed buildings and expositional stands for various museums as Museo Diocesano in Ivrea, Milan Triennale, Palazzo delle Esposizioni in Rome, Neues Museum in Berlin.
In 1990 Michele De Lucchi founded Produzione Privata, a little company in which he designs products that, without the request of a specific purchaser, are produced using non industrial techniques and crafts. He is now working for Fondazione Cini in Venice, for the renovation of Castello Sforzesco in Milan (together with David Chipperfield), of Franco Parenti Theatre in Milan and for different redevelopments of urban areas in Italy and abroad.
He has received several international acknowledgements. A selection of his works has been shown in the most important museums in Europe, Usa and Japan: in 2003 Centre Georges Pompidou in Paris bought a significant quantity of his works. In 2000 he was awarded with an official decoration by Italian Head of State Carlo Azeglio Ciampi for his important achievements in design and architecture. In 2006 he was awarded with the Kingstone University laurea ad honorem, for his outstanding contribution to "quality of life".