Tailor Collection
New models, new details
Fold washbasins and Sarong table from the Tailor Collection Pibamarmi
This collection is inspired by the world of tailoring, by models of clothes and accessories, or by patterns of fine fabrics. Washbasins and tables with a rigorous, linear cut, or with sinuous shapes and draped surfaces, can lend different styles to a variety of environments and are offered in a rich palette of colours and finishes.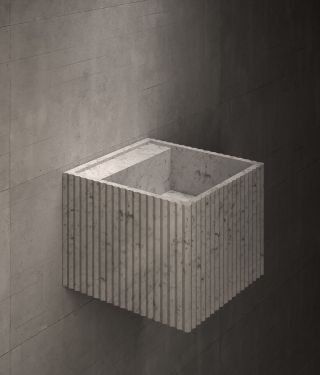 Plissé washbasin from the Tailor Collection Pibamarmi

Models for the bathroom range from traditional countertop or floor-standing washbasins to new lightweight and compact wall-hung blocks. The latter are a novel solution by configuring themselves as minimal units, with a clear, parallelepiped shape and characterized by completely concealed drainage systems, with which to create different series and compositions depending on the available space.
All the washbasins are marked by the theme of lithic monomateriality with concealed drains of various types that transform from technical elements to refined formal details that diversify the objects.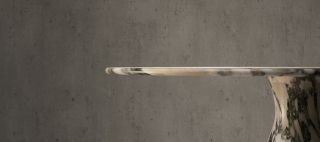 Edge detail of the Curvy table, Tailor Collection Pibamarmi

Edge details of the Bell and Sarong tables,
Tailor Collection Pibamarmi

Turned central bases that rationalize the classic nature of marble characterize the collection's tables, all with circular tops. The cylindrical, conical or sinuous shapes of the bases dialogue at different scales with the edge details of the tops, in a play of assonances made of curved or angled profiles.

Details of Panama and Pillbox washbasins, Tailor Collection Pibamarmi

The accuracy of CNC machining and hand finishing is reflected in the edge profiles of each element. The materials and colors selected to give body to the objects also reinforce the new collection's distinctiveness in the panorama of contemporary stone design proposals: they range from Bianco Carrara and Travertino Milano with their neutral tones to the earthy colors of Pietra Grey and Grigio Portaluppi; from the strongly veined polychrome textures of Calacatta Viola and Calacatta Estremoz to the cerulean tones of Azul Cielo or the purple ones of Rosso Levanto.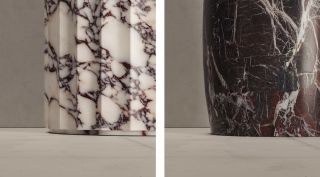 Details of Delfi and Diva washbasins,
Tailor Collection Pibamarmi